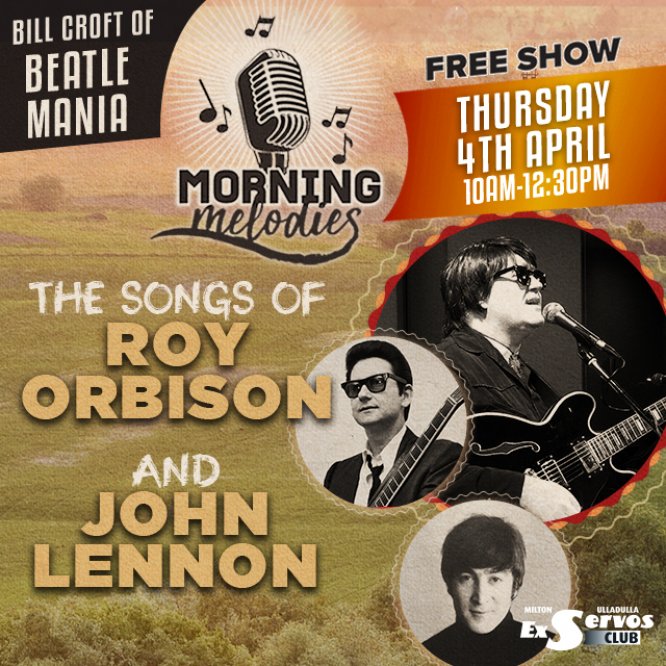 Morning Melodies - The Best of Roy Orbison and John Lennon
with Bill Croft of Beatle Mania
Introducing BILL CROFT as Roy Orbison & John Lennon,
Bill is well known for his exceptional ability to impersonate many different artists with John Lennon & Roy Orbison ranking as one of his best. Over many years of being a part of several variety shows like "STARS IN YOUR EYES" & BRITISH INVASION ,Bill found it very easy to get very close to the sound of many artist like Gerry Marsden,Dave Jones ,Paul McCartney ,George Harrison ,John Lennon and of course ROY ORBISON.
It was only after a performance that someone had said that your John Lennon & your Roy Orbison is phenomenal and that he should do a tribute to the great men and so he did. Bill had been approached by several people strongly encouraging him to pursue this venture and from this he received his first show booking . The first show was at a venue in Wollongong where he received a standing ovation and was re-booked the following Monday for a return performance the following year.
This followed with more bookings at Club Central Hurstville ,Kemps Creek Recreation Club , Windsor Country club, and many more….
During this show you will here all of ROY ORBISON'S biggest hits like…. In Dreams, Only The Lonely , Pretty Woman ,Crying ,Penny Arcade,You Got It as well as all of John Lennons biggest hits with the Beatles as well as his solo career with songs like Twist & Shout , Please Please me , From me to you as well as Imagine Stand by me woman & beautiful Boy.
This one man show promise to bring back all the memories of that golden age of Beatle mania & the big O, Bill Croft brings a tribute with exception accuracy……. you will be amazed…..
Tell a Friend
Share on Facebook
Tweet
< Browse other events
Thursday 4th April
ExServos