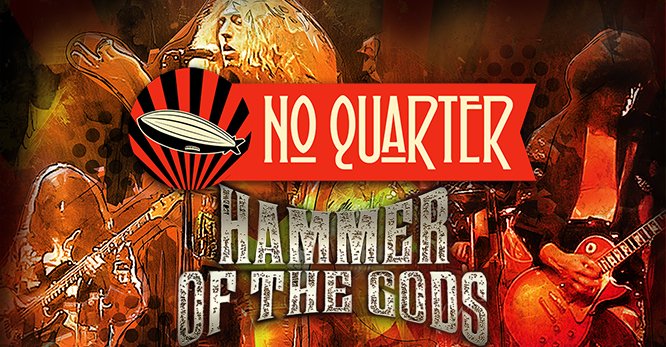 No Quarter the Led Zeppelin Legacy
Hammer of the Gods Tour
Direct from Seatle - USA
NO QUARTER - "the best Led Zeppelin band on the planet" / Dennis D'Amico (Paul McCartney's Producer)
For over 15 years No Quarter has been pounding the Hammer of the Gods to Led Zeppelin Fans both nationally and internationally. This authentic Live Concert reproduction goes far beyond any group of musicians covering the same tunes you've heard on the radio for over 4 decades. No Quarter is bringing back the magic of a True Led Zeppelin Concert to fans all over the world and the response has been overwhelming. If you've never seen the real Led Zeppelin in concert, or if you have and want to relive the magic, No Quarter is as close as it gets to capturing the Iconic British Rock Group Live.
"If in fact you have never seen the real Led Zeppelin in concert, seeing these guys live is as close as one can get. They have all the moves, they know every note of every song…. it is just amazing how well they impersonate the real thing." John Tuckness, Daily Herald, Chicago.
NO QUARTER, Hammer of the Gods Tour features Michael Anderson channeling Robert Plant on vocals – Nathan Carroll portraying drummer John Bonham, Chad McMurray playing bassist/multi-instrumentalist John Paul Jones and the fleet-fingered Byran Christiansen as Jimmy Page. The British supergroup famously refuses to reunite following the death of John Bonham in 1980 other than a one-off gig in 2007. THE LED ZEPPELIN EXPERIENCE has stepped into the breach, keeping the band's fans satisfied and the spirit alive.
Catch their first appearance in Ulladulla at the ExServos to see them for yourself.
Doors Open 7:30pm
Tell a Friend
Share on Facebook
Tweet
< Browse other events
Friday 2nd November
ExServos
Tickets: $35
Buy Tickets
Tickets also available from ExServos Reception or by phoning (02) 4455 1444.