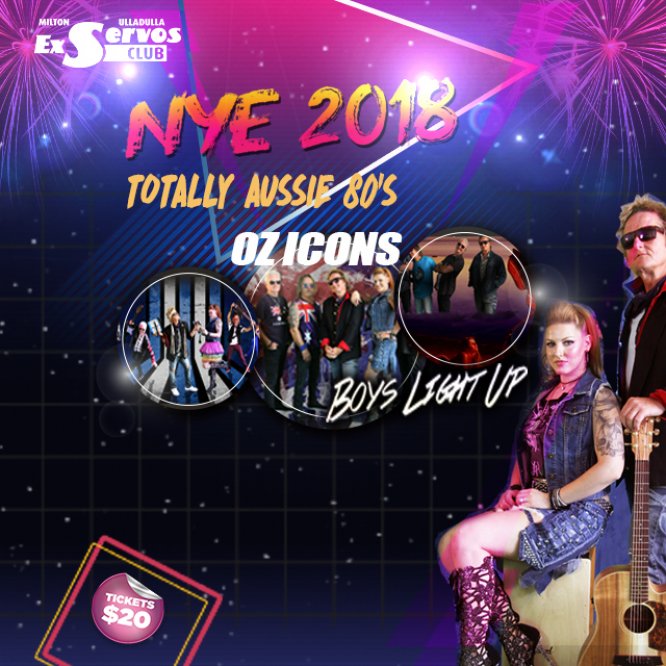 Oz Icons + Totally Aussie 80's + Boys Light Up
Pop Rock Party Down Under
Oz Icons + Boys Light Up + Totally Aussie 80's
- The Pop Rock Party Down Under!
Tickets just $20 plus Booking Fee.
18+ ONLY SHOW
Oz Icons
Oz Icons" pays tribute to Australian music history's biggest artists featuring 5 part harmonies and exceptional musicianship in a unique audio/visual show.
The ultimate line up of homegrown legends and their greatest ever anthems from Australia's rich and diverse musical history are celebrated in this unique live tribute show.
Totally Aussie 80's
Totally Aussie 80's takes you back to the biggest decade in Oz music when Australian music ruled the work, covering artists such as Pseudo Echo, Kids In The Kitchen, Mi-Sex, Real Life, Eurogliders, Little Heroes, 1927, QED, Moving Pictures, Renee Geyer, Divinyls, Icehouse, The Swingers, INXS, Rick Springfield, The Models and many more......
The show includes an audio-visual aspect where we display video and still images of all aspects of Australian life in the 1980's on large LED screens, taking each audience member on a journey back to their younger days.....
These guys have been killin' it through 2018 all over Sydney! Featuring a 9 piece band that faithfully replicates the sounds of the 80's, this is a high quality show like no other and one not to be missed!
Boys Light Up
Back after wowing us for NYE 17! They seemed to step out of a tourism poster... Spruce, lean, tanned and young... They swam, they surfed, they radiated a healthy, wholly Australian aura... Australian Crawl turned the bronzed lifesaver into a pop idol... Crawl songs seemed to symbolise freedom, adventure and the great outdoors Thirty years after it was released, Australian Crawl's debut album, The Boys Light Up, was featured in The 100 Best Australian Albums." Australian Crawl has become a major fixture of the Australian music industry without ever really becoming a part of it. Australian Crawl boldly explored an 'Australian-ness' which broke a lot of ground in the development of an Australian sound.
Courtesy Bus Available - Bookings Essential 4455 1444
Our Sea Salt Restaurant is Open for Dinner from 5:30pm 44552327 or Book Online > https://www.ulladullaexservos.com.au/restaurant/booking
Tell a Friend
Share on Facebook
Tweet
< Browse other events
Monday 31st December
ExServos
Tickets: $20
Buy Tickets
Tickets also available from ExServos Reception or by phoning (02) 4455 1444.