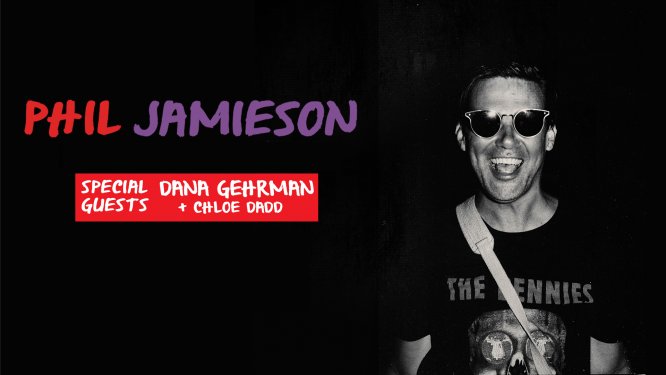 Phil Jamieson (Grinspoon)
.
Phil Jamieson

As the voice and face of Grinspoon, Phil Jamieson fronted one of the most popular Australian bands of the last two decades. An accomplished singer, songwriter and guitarist, Jamieson's generation-defining lyrics and vocal melodies first became etched into rock fans' DNA in 1995, when the Lismore-born quartet rode a new wave of alternative music to become the first act Unearthed by national youth radio station triple j with its debut single 'Sickfest'.
So began a love affair that maintained its heat and passion for over one thousand live shows, six consecutive Top 10 debuts and multi-platinum album sales. That initial romance with triple j's listeners blossomed into full-bloom infatuation: an incredible 17 Grinspoon songs have polled in Hottest 100 countdowns over the years, led by the much-loved 'Chemical Heart' (#2 in 2002; #63 in 2013's Hottest 100 of All Time).
With the release of seventh album Black Rabbits came the news in late 2013 that Grinspoon were entering hibernation indefinitely, yet Phil Jamieson remains as focused and passionate about music as ever. His writing and vocal talents are being put to good use in a fledgling solo career which has seen the singer sell out rooms throughout the country.
See Phil's Facebook page > HERE

Dana Gehrman
Brisbane based guitar-slinger and singer Dana Gehrman has just had the sort of year most musicians can only dream about. Sharing the stage and studio with the legendary Tim Rogers, toured in support of 3-time ARIA nominated alt country stalwarts The Wilson Pickers, graced the stage of numerous festivals and recognized as a finalist for the 2018 Queensland Music Awards.
Armed with her old Fender telecaster and matching Fender amps, Dana takes no prisoners on stage while she brings her 70's 'West Coast' inspired Roots-Boogie to life with more panache and vitality than most rock n roll men could even dream of. We're talking foot on the fold back, amps up loud and attitude to match.
See Dana's Facebook page > HERE
Chloe Dadd
Alternative indie roots, guitarist/singer/songwriter from the South Coast town of Ulladulla, Chloe Dadd brings a unique vibe to her original music. With driving solos, biting beats and oceanic moving lyrics, she creates a journey through sound.
See Chloe's Facebook page > HERE

Tell a Friend
Share on Facebook
Tweet
< Browse other events
Sunday 28th April
ExServos
Tickets: $28
Buy Tickets
Tickets also available from ExServos Reception or by phoning (02) 4455 1444.