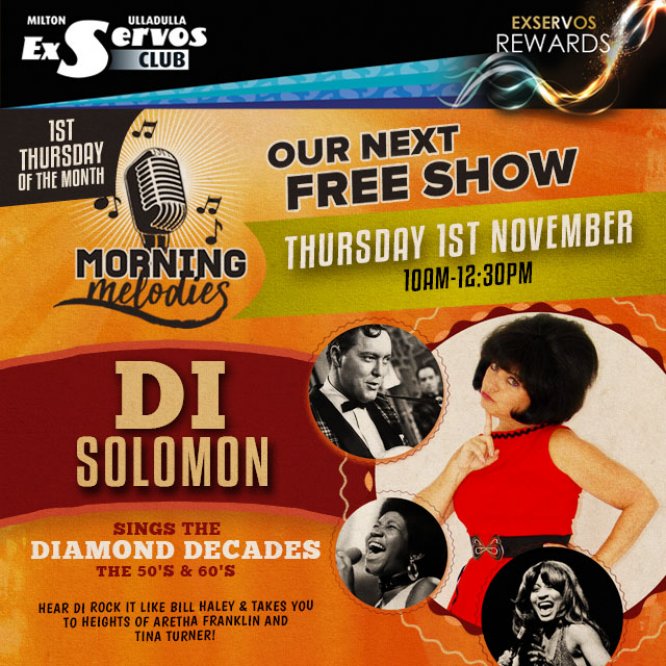 Morning Melodies
The Diamond Decades
Di Solomon sings the Diamond Decades- The 50's and 60's.
Hear Di rock it like Bill Haley & takes you to heights of Aretha FRanklin and Tina Turner
Di is a highly sought-after entertainer in many areas of the industry. Her vast and varied experience has honed her into an all round performer, and educated her in a vast array of musical genre.
She studied piano and guitar in primary school, and was on stage at every opportunity from age five. By her teen years Di was composing and performing regularly in restaurants and cafes.
Di trained and worked as a childcare supervisor, and was a pre-school musical director for three years. Her performance career then took over, and Di then began her varied and busy schedule.
Her experience covers Cabaret, Corporate Functions, Fifties Rock and Roll, Sixties shows and Girl Groups, Jazz, Cocktail Bar, Duos, Swing, Vocal Harmony Groups and Backing Vocals, Acapella, Big Band, Comparing, Rock Bands & Current Pop. Types of venues include major hotels, clubs, pubs, private functions, theatre restaurants, ships, wine and cocktail bars.
Tell a Friend
Share on Facebook
Tweet
< Browse other events
Thursday 1st November
ExServos