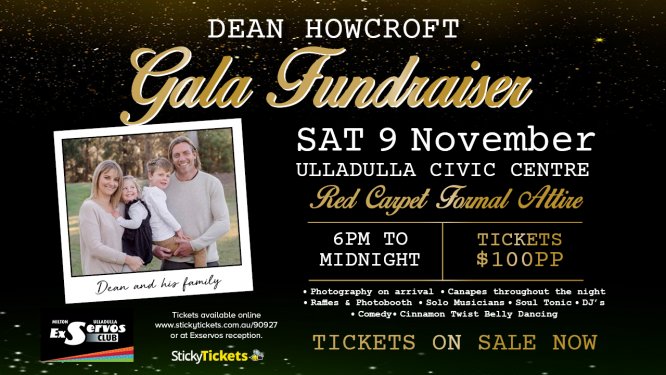 Dean Howcroft Gala Fundraiser
Support Dean and his family
Fourteen years ago, Dean Howcroft was diagnosed with Multiple Sclerosis, a disorder that affects the brain and spinal cord, and last year a decision was made to go overseas for Stem Cell Treatment. The first Gala Night was held in April 2018, and by all accounts, everyone had an amazing time, but for the Howcroft's, they were blown away and humbled by the love and support of all who attended, including the local community who made it possible.
Dean and Alina are reaching out to the local community once again, to help raise funds for a second treatment. Not only has Dean's diagnosis been a physical and emotional challenge, it has been a huge financial strain on his young family.
Join this beautiful family on Saturday 9 November 2019 at Ulladulla Civic Centre from 6.00pm to midnight. Dress up in your finest Red Carpet Formal Attire and get ready for a fantastic night out for just the adults. Strictly over 18's only. Tickets include canapés throughout the night, raffles and photo booth, solo musicians, Soul Tonic, DJ's, comedy, and cinnamon twist belly dancing.
Tell a Friend
Share on Facebook
Tweet
< Browse other events
Saturday 9th November
Civic Centre
Tickets: $100
Buy Tickets