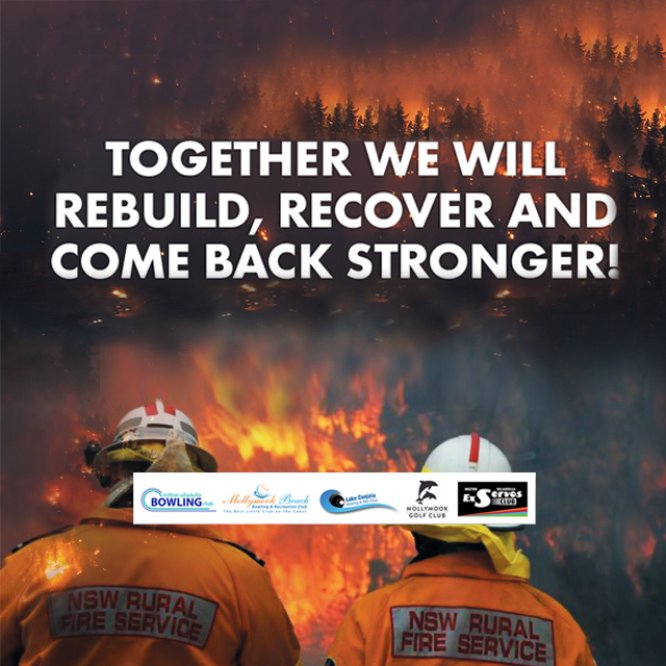 LOCAL CLUBS RALLY FOR BUSHFIRE VICTIMS. ❤️
Mayoral Relief Fund
Today we joined forces with our local club community and launched a campaign to help our communities and smaller businesses rebuild and recover following the South Coast Bushfire Crisis.

By working together, we hope to maintain ongoing awareness of the devastating impact the Currowan fire has had on our villages, town and businesses while creating an avenue for donations.
Shelley Payten is the Club Secretary of the Lake Conjola Bowling Club, the area hardest hit during the bushfire emergency where 3 lives and 89 homes were lost.
She hopes the club-driven push for donations will help in what she expects to be a "long recovery process."
"As part of our fundraising efforts, we are throwing our support behind the Shoalhaven City Council's Mayor's Relief Fund because it's incredibly important for our locals, members and visitors to know that any money they donate will be helping our local communities recover," she said.
"Our organisations are closely connected to our communities, which has made this ordeal even more heartbreaking and many of those who need immediate help are our customers and friends."
The campaign titled "Together We Will Rebuild, Recover and Come Back Stronger" has been welcomed by ClubsNSW Executive Manager for Member Services Anne Fitzgerald, who described the initiative as a show of solidarity within the club community.
"At the height of the emergency our clubs acted as places of shelter, providing a safe place to stay and be fed and now they are working collectively to get their communities back on their feet."
Shoalhaven City Council Mayor Amanda Findley said a donation to the Mayoral Relief Fund is the best donation people can make.
"Donating to the Mayoral Relief Fund will allow us to keep the funds raised in our community, to help those most in need to make their own choices – including purchasing the goods for their own families and to begin to recover from this event."
"Thank you to everyone who has already given their time, energy and support to those affected during this time, I am so proud of how our community has rallied together in this time of need."
People are encouraged to donate when visiting any one of your five local clubs or by visiting www.shoalhaven.nsw.gov.au
Tell a Friend
Share on Facebook
Tweet
< Browse other events
Wednesday 15th Januaryto 31st March
ExServos