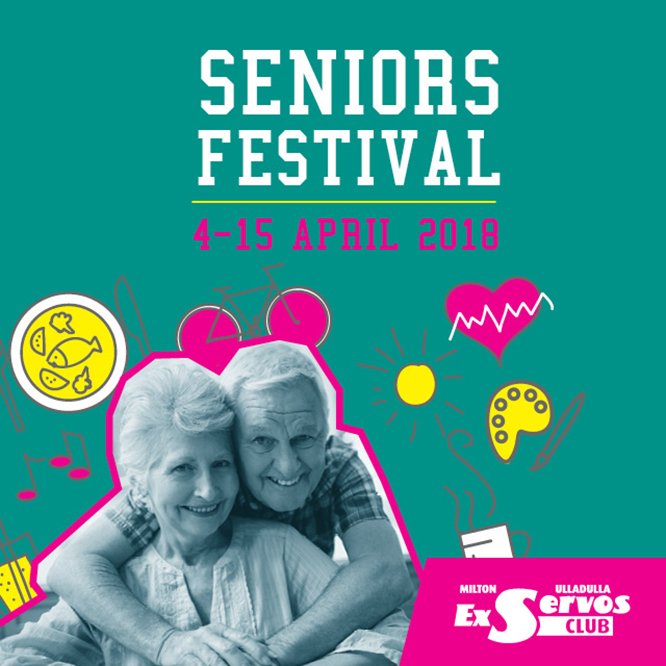 Seniors Week 4 to 15 April
Morning Melodies and Sea Salt Dining
During this years Seniors Festival we have an array of special events to celebrate staying young!
Feature events:
1. Thursday 5th April 10am--12:30pm
Morning Melodies with Elvis Impersonator Allen MacDonald along with Kevin McNamara of Neil Sedaka Show Fame / No Cover
For all you Elvis and 60's legends fans!! 1 x 40min singalong and even dance set - 1 x 60min costumed show set – 1 x 40min singalong + even dance set).
Think Elvis + O'Keefe / Buddy Holly and Stevie Wonder
Be Early for this one.
2. Tuesday 10th April 12-3pm
Sea Salt Lunch with Dave Newman.
Dave is quickly gathering a following down the south coast. Rightly so! Think all the classics from the 60's and 70's.
Great lunchtime specials from just $10
3. Thursday 12th April 10am-12:30pm
Morning Melodies with The Piano Man - Geoff Davies / No Cover
He was the resident at JD's Bar and Grill for 6 years and over that time became a much loved figure in the Shire music scene. Geoff's experience spans over thirty years at various up market Sydney piano cocktail bars & corporate venues. He is one of Sydney's best entertainers with his genius skills on the piano and the ability to sing simultaneously is impressive. Many performers claim to be the piano man...but once you hear Geoff you will agree he is brilliant.
All music styles including jazz, R & B, soul, rock & roll, & especially the 50's, 60's, 70's & 80's are incorporated into his performances.
Stevie Wonder, Ray Charles, Elton John, Billy Joel are just a small part of his massive repertoire.
4. Friday 13th April 1:30pm - 3:30pm
Bringing together local legal, financial, aged care and funeral experts, Legacy Wills & Estates presents a Q & A session for local seniors to get their questions answered on the legal, financial and personal aspects of growing old.
Joining our compare, Matt Dell, will be our panellists, including:
> Anthony Fondacaro, Principal Lawyer, Legacy Wills & Estates
> Ben Hatcher, Principal and Financial Adviser, Tailor-Made Financial Services
> Simon Law, Owner and Funeral Director, Milton Ulladulla Funeral Service
> Carolyn Tomlinson, Aged Care Specialist, Tailor-Made Financial Services
Our panel have been servicing the people of the Shoalhaven for many years and all agree that the best piece of advice that they can give is… Be Prepared.
Being prepared means:
> Managing your finances through smart investments, a pension or superannuation;
> Taking the time to prepare a Will, Power of Attorney and Enduring Guardianship according to your specific circumstances;
> Talking to your loved ones about your funeral arrangements;
> Getting advice on the financial consequences of going into aged care; and
> Discussing your wishes with loved ones to ensure a smooth transition to a new stage in life.
The event commences at 1.30pm on Friday 13 April 2018 at the Ulladulla Ex-Servos Club and the Q & A session will run from 2pm to 3pm. The panellists will be available for a chat afterwards.
To secure your place and submit your questions, contact Rebecca at Legacy Wills & Estates on (02) 4455 5003 or rebecca@legacywillsestates.com.au or RSVP on the wall of this event page.
Tell a Friend
Share on Facebook
Tweet
< Browse other events
Thursday 5th Aprilto 12th April
ExServos