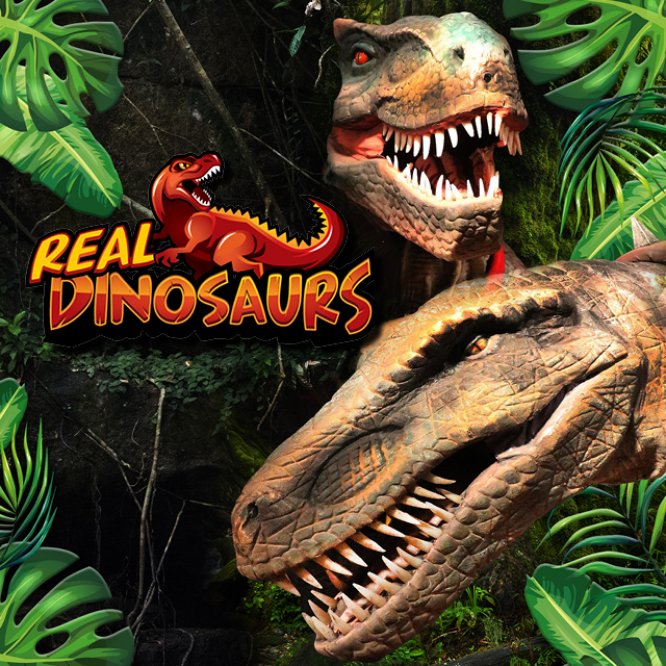 Dinomania - Real Dinosaurs (SOLD OUT)
School Holiday Fun
Welcome To Dinomania - An Interactive Dinosaur Stage Show
DINOMANIA is a highly interactive dinosaur adventure with a quirky cast, a cheeky Raptor named Razor and a T Rex named Toby that carves up the dance floor with his dino-mite dance moves.
DOORS OPEN 3:30pm - Show Begins 4:00pm
DINOMANIA is a family show spectacular that allows imaginations to run wild.
The audience will embark on an awe-inspiring, exhilarating and gripping journey back to an age when dinosaurs roamed the earth. They will come face to face with FOUR dinosaurs and a quirky cast as the battle unfolds to find out who is the real champion of dinosaurs - the T-Rex or the Raptor!
There are plenty of surprises, songs and dancing from start to finish, plus a special Kids Zone for an up-close and personal experience.
Look no further for a family show that's fun, interactive, entertaining and out of this world!
The show is suitable for ALL ages from 1-100 years old.
Pre-show entertainment includes giveaways and a children's entertainer to provide excitement so make sure you come dressed up as your favorite dinosaur. There are prizes to be won for the best dressed!
You may even be lucky enough to be picked out of the audience to join these prehistoric dino's on stage.
So bring your family, buckle up and let 'DINOMANIA' take you on a fun journey of pure roarsomness
All the way back to the time of the dinosaurs!
NOTE: A Child must be with a Adult 18+. Children cannot just be dropped at the event unaccompanied.
Children under 12 months free
WHERE: ExServos Function Centre
Room set up? Around stage / dance floor area for the kids with plenty of seating set back from this area for attending parents.
Kids eat free in the Southside Restaurant after the show *Conditions Below*

* After the event kick on for dinner in the main club! A Child can eat free when an Adult (Parent or Guardian) who attended the show purchases a main meal in the restaurant after the show. You will need to present your Show Ticket at the Restaurant after the Show and for each Adult Main Meal Purchase - One Child (up to 12 years) will eat free - a base item meal from the Tadpoles Tucker Meal listing at Southside Restaurant! Visit our website for more info and to book a table CLICK HERE or Book via 4455 1444.
Bar will be open for Over 18's to Purchase Drinks for self and children. Under 18's cannot order drinks from the bar.

Tell a Friend
Share on Facebook
Tweet
< Browse other events
Tuesday 16th July
ExServos
Tickets: $12
Buy Tickets
Tickets also available from ExServos Reception or by phoning (02) 4455 1444.