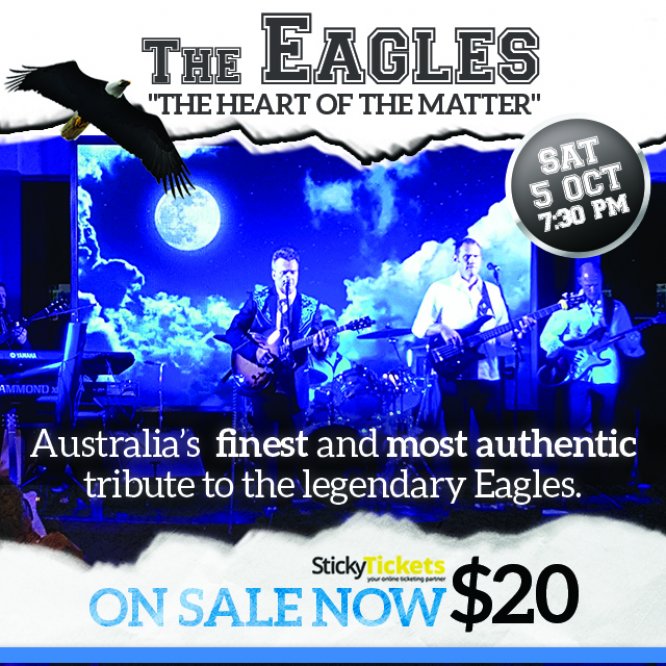 The Heart of the Matter
The music of The Eagles with a special tribute to Don Henley
The heart of the matter is a brilliant show featuring five of Australia's most accomplished singers and musicians paying tribute to this classic band along with a special tribute to the "voice of Hotel California", Don Henley.
Paul McGovern developed a love for Don Henley's music through his exposure to The Eagles and having served as the principal vocalist in The Eagles tribute show "New Kids in Town" in the late 1980s. Paul was born to sing these songs possessing a voice with an identical range and a slight huskiness akin to Henley's, lending a feel of authenticity to his delivery.
With a brilliant band featuring Cameron Lees, Glenn Magson, Jerry Ico and Rob Turner (ex-Eagles Show)… this show is world class.
Follow Don's journey from small-town Texas, and his early exposure to country music and rock and roll, through the heady days of the 1970s as a founding member of The Eagles, to the respected and mature artist that he is today.
It could be said that Don Henley's songs always get to "The Heart of the Matter." 
"My wife and I are Eagles fans so booked into the Eagles show with some of our friends at the Mittagong RSL in June. It was clear from the stage set-up and instruments (amazing drum kit) that these guys were serious about what they do. From the moment that Paul McGovern open their set with 'The Long Run', we knew we were in for a treat. Paul's voice sounds uncannily like that of Don Henley's yet they are far from the standard fare of corner pub impersonators. Every member of the band displayed superb musicianship across a range of instruments, with the lead guitarist stunning us all with his skill. Through two solid hours these guys clearly enjoyed what they do delivering the full range of Eagles classics through to a raunchy rendition of Joe Walsh's 'Rocky Mountain Way'. We had humour, harmonies, dancing and faithful renditions of Eagles classics to do the band and their fans proud. As the lead singer said, "we're not trying to impersonate anybody. We just want the music we love to speak for itself". THE HON BRENDAN NELSON AO BMBS FRACP (HON) FAMA

Tickets just $20. Reserved and Unreserved Seating and Standing Areas. Dance Floor Open!!
Courtesy Bus Available - Bookings Essential 4455 1444
Our Southside Restaurant is Open for Dinner from 5:30pm 44552327 or Book Online > https://www.ulladullaexservos.com.au/restaurant/booking
Tell a Friend
Share on Facebook
Tweet
< Browse other events