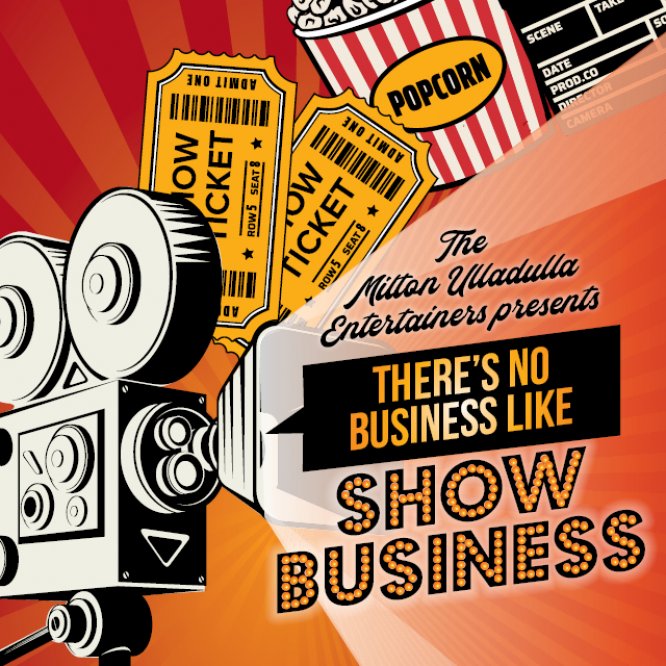 There's No Business Like Show Business
ON SALE 9:30AM
DINNER & SHOW $65PP | SHOW ONLY $32PP
Fri 13 SEPT (RED CARPET) Dinner & Show - Arrive 6.00pm for 6:30pm Dinner | SHOW @ 8:00PM
Sat 14 SEPT - Dinner & Show - Arrive 6.00pm for 6:30pm Dinner | SHOW @ 8:00PM

Sun 15 SEPT - Matinee > Show Only |  SHOW @2:00PM

Thurs 19 SEPT - Dinner & Show - Arrive 6.00pm for 6:30pm Dinner | SHOW @ 8:00PM
Fri 20 SEPT - Dinner & Show - Arrive 6.00pm for 6:30pm Dinner | SHOW @ 8:00PM

Sat 21 SEPT - Matinee > Show Only | SHOW @2:00PM

Sat 21 SEPT - Dinner & Show - Arrive 6.00pm for 6:30pm Dinner | SHOW @ 8:00PM

ON SALE via Sticky Tickets http://tix.yt/themusicneverdies or at the  ExServos 9:30am July  6

- Dinner is Two Course - Main + Dessert 

This year, The Milton Ulladulla Entertainers will be presenting a show entitled "There's No Business Like Show Business." Expect big show numbers, cabaret musicals, glamorous costumes and energetic stage performances that follow the theme of all the great songs we all know.

Along with our returning favourites, we are welcoming a few newbies popping up onstage and in the band. We are so fortunate to be in a community so rich in talent and with community minded spirit.
The cast and crew on this year's show are all amazing and working incredibly hard to put together a show that will not only entertain, but delight and maybe even inspire.
The show has raised over $800,000 for local charities and provided a creative, fun, and above all, an entertaining experience to all who have been a part of it.
The Dinner Shows will again be on at the Civic Centre which has a big stage and greater seating capacity.
Tell a Friend
Share on Facebook
Tweet
< Browse other events
Thursday 19th September
Civic Centre
Tickets: $65
Buy Tickets
Tickets also available from ExServos Reception or by phoning (02) 4455 1444.