Relay For Life and the Milton Ulladulla ExServos Club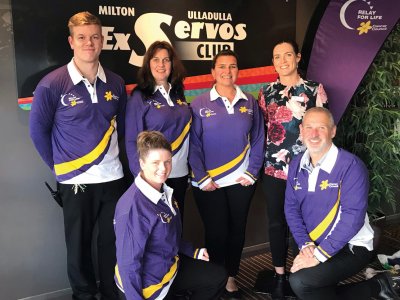 Let's get ready to Relay! This year, the Milton Ulladulla ExServos Club has partnered with Cancer Council NSW to make this awesome fundraiser bigger and better than ever in Ulladulla! This year's Relay is set for Saturday 23 November 2019, 9.00am-9.00pm at Ulladulla Civic Centre with a 12 hour format.
The Milton Ulladulla Relay for Life is a great family day out with kids activities, games, music and even a bit of pampering, and don't forget the all important relay. One person from each team must be in the relay at all times, but all team members don't have to stay for the entire day. Take it in shifts and contribute to this fantastic cause.
Relay for Life is a fun community event designed to bring people together to celebrate surviving cancer, remember those lost and to fight back as a community against cancer.
Each year, Relay for Life in Ulladulla is growing and drawing much needed attention and funds for research. This year celebrates Ulladulla's eighth Relay and the Milton Ulladulla ExServos Club is setting a challenge to have the largest team for a regional relay! Join their team and help them achieve this goal. Teams fund raise in the lead up to the event, and on the day, walk the track to signify that "cancer never rests, so neither do we."
The Milton Ulladulla ExServos Club will be hosting a number of fundraising events in the lead up to the Relay, so keep an eye out for dates and information. This wonderful event is open to all members of the community, regardless of age, fitness or level of mobility. Everyone is welcome and encouraged to join in.
Cancer Council NSW
Funds raised will go towards Cancer Council's research, advocacy and information and services to prevent cancer as well as supporting people as they navigate their cancer journey. Every year in NSW alone, more than 48,000 new cases of cancer are expected to be diagnosed, and the impact on families, carers and communities is significant. Cancer Council NSW is the only organisation that works across every area of every cancer.
Cancer Council NSW is there not only for those touched by cancer today, but to prevent and manage cancer for future generations. So jump online at www.cancercouncil.org.au/relayforlife/get-involved to show your support.
Make a team out of your family and friends, your community groups, sport groups, work colleagues, gym mates... anyone you want, or join another team to get on board with this fantastic relay.
To find out more, or get involved, check out the Relay For Life website, the Milton Ulladulla Relay for Life Facebook page or contact us via phone.
The Milton Ulladulla ExServos Club and Cancer Council NSW will be holding information nights at the Club in the future, so keep an eye out for the dates.
Let's join as a community and make this a Relay to remember, showing our support for the Survivors and Carers, those individuals and families battling against cancer, those lost, and to help bring hope for the future fight against this life-shattering disease. 
Published on 14th Jul, 2017
< Back to Latest News