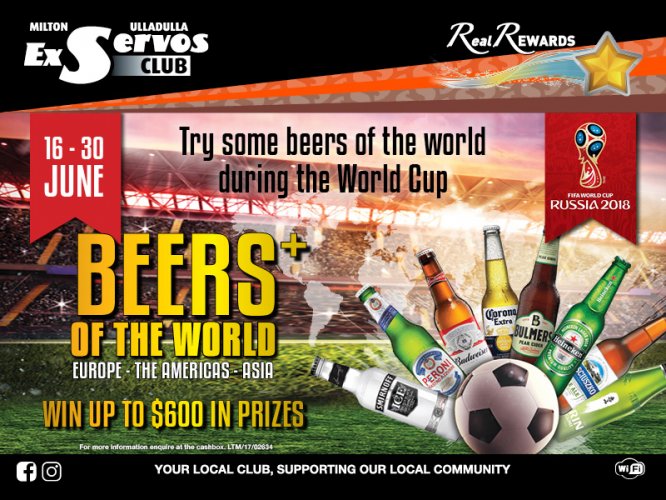 Beers of the World
..
MEMBERS ONLY PROMOTION
Beers+ of the World - Get your World Cup Team and Win!

During the qualifying period the World Cup we will be giving you the opportunity to not only taste some beers+ of the world but also win prizes up to $600 and also a set of Beats Headphones!
Grab your passport from the cash box on the 16th June and be a winner!!
BE allocated a Team that makes the Round of 16 and from there be in the running to win!

Route 1
Receive 1 entry ticket for 2 x 4 or 6 pack purchase in the Bottlo-0 of Smirnoff Black Ice (4 Pack), Peroni Nastro (6 Pack), Budweiser (6 Pack), Corona (6 Pack), Bulmers Pear Cider (4 Pack), Heinekin (6-Pack), Kosciusko (6 Pack) or Kirin (6 Pack).
Route 2
Receive 1 entry ticket for each 4 Bottle purchases of Smirnoff Black Ice, Peroni Nastro, Budweiser, Corona, Bulmers Pear Cider, Heinekin, Kosciusko or Kirin Stubbies.
Route 3
Buy an entry from the Bar or Bottleshop for $25.
Entry Tickets
With the assistance of bar or reception staff, place the ticket generated at POS (or receipt for the $25 Entry Option) in the barrel near the Change Box for your chance to go into the Round of 16 and after the World Cup Final win up to $600.
A VALID ENTRY is the POS Coupon or the $25 RECEIPT. A Passport alone is not a valid entry to this draw. A completed Passport is for additional Beats Headphones Bonus Draw.
Tickets are date and time printed at the POS and will commence printing at 9:30am on Sat 16th June and conclude at 3:45pm on Saturday 30th June.

The Draw
Draw for the Round of 16 will be at 4pm Saturday 30/6.
• The draws will be conducted at the Milton Ulladulla ExServos Club, 212-222 Princes Highway, Ulladulla.
• Any Member can be drawn on any number of occasion if they have a barrel entry.
• The names drawn will be allocated a team in this order - First Name Drawn 1a, then 1b through to 1h. Then from 2a, then 2b through to 2h. See diagram below:
From Round 16 to Final to the $600 Prize Draw
The 16 Drawn names + Member No. will be entered onto the Fixture Board in the TAB and as games take place and results come through the names will come down to 3 Winners.
First Prize – World Cup Winner – Member entrant receives $450
Second Prize – World Cup Runner up – Member entrant receives $100
Third Prize – World Cup 3rd - Member entrant receives $50
Additional Bonus Draw for Beats Headphones
Place a fully stamped and completed PASSPORT with your details on the reverse into a Beats Headphones Barrel at the Change Box. After the final Game a draw will take place and drawn Member Passport will win the Beats Headphones
Members above - if not present will be contacted no later than 5pm on 17/7.
Tell a Friend
Share on Facebook
Tweet
< Browse other events
Saturday 16th Juneto 30th June
ExServos