Relay For Life and the Milton Ulladulla ExServos Club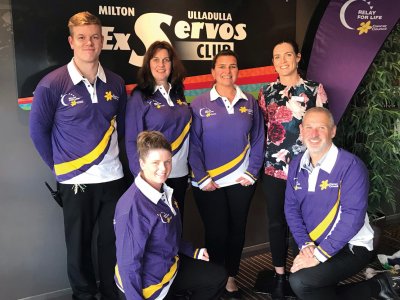 In 2019 the Milton Ulladulla ExServos Club partnered with Cancer Council NSW and made an awesome fundraiser bigger and better than ever in Ulladulla! And we did just that, earning the title of the highest fundraisers with a whopping $10,000 raised for Cancer Council.
The Milton Ulladulla Relay for Life is a great family day out with kids activities, games, music and even a bit of pampering, and don't forget the all important relay. One person from each team must be in the relay at all times, but all team members don't have to stay for the entire day. Take it in shifts and contribute to this fantastic cause.Relay for Life is a fun community event designed to bring people together to celebrate surviving cancer, remember those lost and to fight back as a community against cancer.
The Milton Ulladulla ExServos Club hosted a number of fundraising events in the lead up to the Relay with a lot of staff members getting involved and helping. We had a lot of fun and most importantly raised heaps of money.

Obviously with Covid the Relay didn't take play last year in 2020 but we all look forward to it being back soon so we can have lot's of fun again!
Cancer Council NSW
Funds raised will go towards Cancer Council's research, advocacy and information and services to prevent cancer as well as supporting people as they navigate their cancer journey. Every year in NSW alone, more than 48,000 new cases of cancer are expected to be diagnosed, and the impact on families, carers and communities is significant. Cancer Council NSW is the only organisation that works across every area of every cancer.
Cancer Council NSW is there not only for those touched by cancer today, but to prevent and manage cancer for future generations. So jump online at www.cancercouncil.org.au/relayforlife/get-involved to show your support.
Make a team out of your family and friends, your community groups, sport groups, work colleagues, gym mates... anyone you want, or join another team to get on board with this fantastic relay.
To find out more, or get involved, check out the Relay For Life website
Published on 14th Jul, 2017
< Back to Latest News